Bosbury Mormons who Emigrated to America
It is proving difficult to locate individuals from Bosbury in the Church of Jesus Christ of Latter-Day Saints records since passenger lists on the transatlantic ships often give home address as simply Herefordshire. People from all over the county emigrated including, notably, the Benbow family from Hill Farm, Castle Frome, just north of Bosbury, who sailed on the "North America" from Liverpool to New York in 1840 travelling with the Homes family.
Mary Ann Parry was born to Richard and Elizabeth Parry of Munsley on the south-west edge of the parish of Bosbury on 14th March 1794 and baptised in Bosbury church on 6th April 1794. At the age of 23 she married John Rowberry from Coddington, Herefordshire at Bishop's Frome church on 1st May 1817. They had six children; Mary, Ann, John, William, Thomas and Edward and the family were living in Southfield Orchard, Bosbury in 1841. Her husband's occupation was given as Farm Labourer. The family was baptised into the Mormon church and in 1844† John and Mary Ann emigrated to Nauvoo (formerly Commerce), Hancock County, Illinois. She died there on 6th August 1844 aged 50 and her husband died 20 days later. Their son, John, became the first bishop of Tooele in Utah.
Robert Homes was the eldest son of Robert and Margaret Homes and was born in Bosbury on 19th January 1816, and christened in Ashperton church. He married Elizabeth Cole, from Much Marcle, at Castle Frome church on 27th June 1838 and they emigrated to Willard, Box Elder, Utah sailing on the "North America" from Liverpool on 8th September 1840. She died in Utah on 26th March 1882 and he died there on 27th December 1908.
Sarah Homes was the eldest daughter of Robert and Margaret Homes and was born in Munsley on 8th October 1818. She emigrated to Nauvoo, Hancock, Illinois in 1840 on board the "North America" and there married Thomas Benbow from Grendon Warren, Herefordshire on 19th February 1845. She died in 1868 in Fremont, Alameda County, California and her husband on 1st March 1899 also in California.
John H. Kendrick
was the eldest son of a Bosbury farming family, William and Elizabeth Kendrick. He was born in Bosbury on 7th June 1842 and baptised in Holy Trinity Church on 10th July. He married Ann Hyde in Worcester in 1866 and they had four children. Ann died in 1876 and soon after he married a widow, Caroline Philpotts at Bredwardine church in 1876. He emigrated in 1893 with his wife and children, Minnie, Francis, Ernest, John and George. He died on 20 March 1917 and is buried at Providence City Cemetary, Cache County, Utah.
William Field was born in Bosbury and baptised at Holy Trinity Church on 8th June 1799. His parents were James and Mary (Williams) Field who lived at Old Country, Bosbury. He had seven older sisters and brothers and one younger sister. Like his father James, William was a shoemaker. He married Mary Harding in Bosbury church in 1825 and the 1841 census records seven children, Eliza, Rachel, James, Keziah, William, Mary and Sarah with the family living at Stanley Hill, Bosbury. They emigrated shortly after and sadly three of their children died young in their new homeland. Mary died in Hooper, Webber, Utah in 1843 aged 6; Rachel and Eliza at Nauvoo in 1844 in their teens. William himself died in September 1845 at Nauvoo, aged 46, leaving his widow Mary to raise her five children. She died in 1899 aged 93.
James Field was born in Bosbury and baptised on 17th February 1830 at Bosbury Holy Trinity church. He was the son of William and Mary and emigrated with them and his four siblings. At the age of 33 he married Catherine D. Brown on 16th July 1863 at Lynn, Box Elder, Utah. There are no living children recorded. He died on 17th January 1907 at Lynn aged 76.
Robert Hill was born in Bosbury on 12th October 1816 but not baptised at the church so his family were probably Methodists. We only know his father's name was Robert. Robert junior must have emigrated before 1841. On 19th April 1859 he married a 17-year-old Canadian girl, Margaret Gardener, at Salt lake City. Her father was from Scotland. The LDS records do not mention children or give when he died but Margaret died in 1920.
Rebecca Hill may have been a relation. She was born in Bosbury on 15th February 1819 and again was not baptised at the church. Her parents were Robert Hill senior and Ann Harding. The family may have emigrated before 1841 or the parents may have died as they all appear to be missing from the census of that year. At the age of 24 Rebecca married George S. Colemere at Nauvoo on 24th May 1843. Again no living children are recorded.
William Parsons was the son of Richard Parsons and Mary Gouldrick. He was born in Bosbury on 7th March 1808 but it appears only baptised at the church in April 1809. He married 22-year-old local girl Mary Jenkins on 21st July 1835 but not at Bosbury. He was baptised into the LDS on 25th March 1840, possibly by Wilford Woodruff at Benbow's pond. The couple emigrated before the 1841 census and both died in Utah; William at Willard, Box Elder on 20 September 1882 and his wife on 13th August 1892. No living children are recorded.
William Jones was possibly a relative. He was the only son of Thomas Jones and Mary Parsons from Bishops Frome who were living at Stoneways Green in Bosbury when he was born on 20th August 1837. The family were members of the United Brethren church and he was not baptised at Holy Trinity church. Thomas suffered a leg injury while working on the farm which lead to its amputation above the knee. He was forced to change his line of work and became a shoemaker. William's mother Mary died young in 1839 and he took her maiden name and became William Parsons Jones. Thomas was baptised into the LDS at Wynds Point, Colwall in May 1840. In February of the following year the disabled father and his young son left Bristol by ship for America in February by sailing vessel on the eight-week jouney to New Orleans. They arrived in Nauvoo, Illinois in the following September. His father, who became known as Thomas E. Jones, married three wives concurrently in America, Jane Wilson in 1857, Mary Ann Mayall or Mailes in 1842 and Lucy Hayhoe in 1879 and had a number of children.

On 25th February 1858, William married a 24-year-old Yorkshire lass from Stainborough, Elizabeth Shaw, in Kaysville, Davis, Utah. She had also emigrated with her parents before 1841. He and his wife both died in Utah - William at South Weber, Davis on 9th July 1891 and Elizabeth at Ogden, Weber on 13th December 1916. They had thirteen children of which eight survived into adulthood.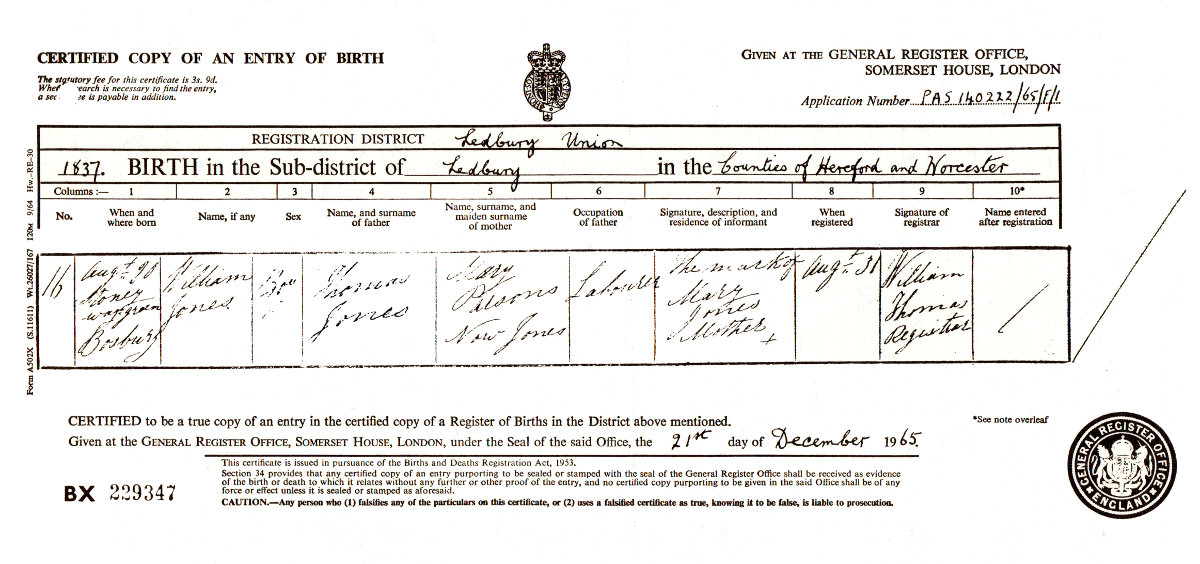 His birth certificate.

His grave is in Ogden City Cemetery.
John Haynes was born on 3rd May 1868 in Bosbury, the son of Thomas J. Haynes and Elizabeth Barnett. He emigrated from England to the USA in 1910 and married a widow, Mrs. Alma M. Anderson, ten years his junior, in November 1925 and they moved to Uintah, Weber, Utah. His wife's maiden name was Olsen. They had four sons and a daughter. He died on 31st August 1931 and is buried in Uintah City cemetery. His life is described in his obituary in the Salt Lake Telegram the following Wednesday.
William Carter and Elizabeth Thomas, brother and sister lived in Bosbury. She was born in 1811 and had an illegitamate child, Eliza, by a Ledbury man in 1831 before she married Charles Thomas around 1833. William Carter was baptised on 27 December 1840 by Edward Okey. William with the Thomas family, now with four children and Eliza, sailed on 11 April 1841 from Bristol to Quebec and made their way to Nauvoo, Illinois.* Elizabeth died in 1889 and her obituary appeared in the Salt Lake Herald.